Foster City to Restore Roadway On Beach Park Boulevard as Part of Levee Improvements Project
For immediate release: July 21, 2023
Contact: Public Works Department, (650) 286-3270, publicworks@fostercity.org
Foster City's Levee contractor will begin work on or around July 24 to restore the roadway along Beach Park Boulevard between Teal Street and Foster City Boulevard.
This segment of roadway has been used as a staging area for the Levee contractor during the Levee Improvements Project, and it is being restored now that a majority of the adjacent work has been completed.
Given the existing condition of the roadway, the roadway restoration will consist of a sequence of several operations. Beach Park Boulevard will receive a slurry seal treatment, which will improve the pavement's condition, enhance durability, and protect against water penetration and accelerated deterioration caused by sunlight. Prior to the slurry seal application, the contractor must remove the construction k-rail, grind the existing striping, and conduct crack sealing of the roadway.
Once the City's contractor, Shimmick Construction, Inc., and its subcontractors begin roadway construction, the work is expected to be conducted through August. Work will take place Monday through Friday. Construction hours on Beach Park Boulevard are typically between the hours of 8 a.m. and 5 p.m. During construction, travel lanes may be temporarily closed and on-street parking prohibited during the day of work. Access to driveways may also be restricted. Please follow posted signs and traffic control measures for safe travel through the construction zone.
The below image indicates where the slurry seal application will take place along Beach Park Boulevard: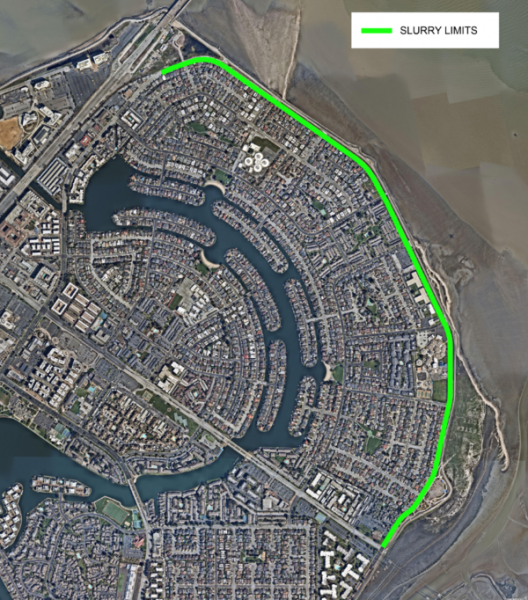 Foster City appreciates the community's patience and cooperation as the City strives to improve its roadways. For further information or inquiries, please contact the Levee Improvement Project Team at (800) 213-6320 or leveeproject@fostercity.org.